2019 Volkswagen Atlas  Downers Grove, IL
The latest version of the 2019 Volkswagen Atlas has many upgrates and changes compared to previous model. It has been upgraded with a 3.6 liter engine and 266 lb-ft of torque. Features three rows of seating and plenty of cargo space for all your stuff!
The 2019 Volkswagen Atlas has a comfortable roomy ride and is more responsive than larger SUVs. It makes a tranquil and at 19 mpg joined with all-wheel drive, as indicated by the EPA, the Atlas is perfect for any road trip.
It's the family vehicle for all your needs. Give the 2019 Volkswagen Atlas a test drive and see what a great driving experience feels like.
Driving Performance of the Volkswagen Atlas:
When you see a car that is as big as the 2019 Volkswagen Atlas, available at Pugi Volkswagen, serving in Downers Grove, IL, the first thought you might have about the vehicle must be its performance. You might think that since it is a big car, it the engine performance might not be as strong since most of the people driving this car will be individuals who have a big family and when you are that type of person, you don't care much about the performance. Let me stop you right there as this vehicle is loaded with an engine that soars like a beast on the roads. How?
With the following features:
24 valve 3.6 liter engine
17 mpg city
23 mpg highway
V-6 cylinder
266 lb.-ft. torque
276 hp
Volkswagen Atlas Technology Features
We eat technology. We breathe technology. We live technology. There is a reason why today's world is often called the technological world and it is because of our dependency on it. Technology is not age restricted. You might have seen a tablet with a baby as small as 1 year old or an older person who is above 70 but knows how to use it. There isn't a place where technology isn't available. So why should your car leave behind? In 2019 Volkswagen Atlas, available at Pugi Volkswagen, serving in Downers Grove, IL, you will find the best technology in the car to make sure the passengers as well as the drivers are not bored.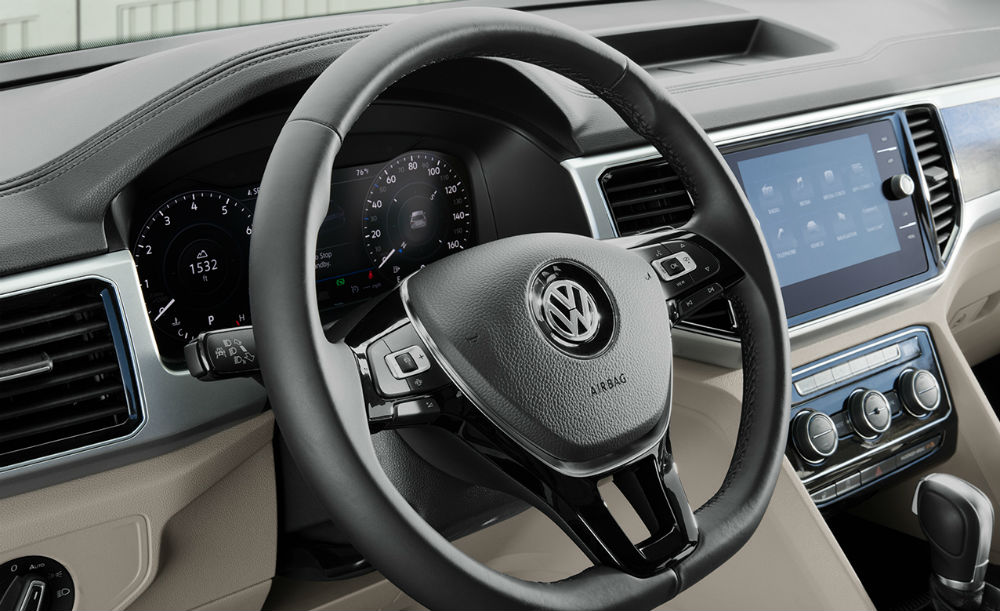 The 2019 Volkswagen Atlas Features:
8.0" primary LCD
Diversity antenna
8 speakers
SiriusXM
Bluetooth
Radio data system
What About The Safety Features of the Volkswagen Atlas?
Often people think that a car that is as spacious as the 2019 Volkswagen Atlas, available at Pugi Volkswagen, serving in Downers Grove, IL, wouldn't be as safe to drive. It is precisely the opposite of that. Volkswagen understands the concerns of its customers, even the smallest ones, so how could they not think of making their car the perfect vehicle for the drivers that is incredibly safe to drive? After reading its safety features, you will laugh at yourself for ever doubting Volkswagen.
The safety features of the 2019 Volkswagen Atlas are:
Ignition disable
Panic alarm
Electronic stability
Brake assist
Security system
Interior Features of the Volkswagen Atlas:
Although each and every component of the 2019 Volkswagen Atlas, available at Pugi Volkswagen, serving in Downers Grove, IL, screams creativity, but none of them do like the seating/space/cargo does. This car is sure to be a winner among people who like to take a break out of their hectic routines and go for short trips to towns nearby. With its spacious seating/spacing/cargo, you will feel like you are sitting in the first class seating of an airplane. Whether it's stuffing luggage or comfortability of your family members, the vehicle has it all.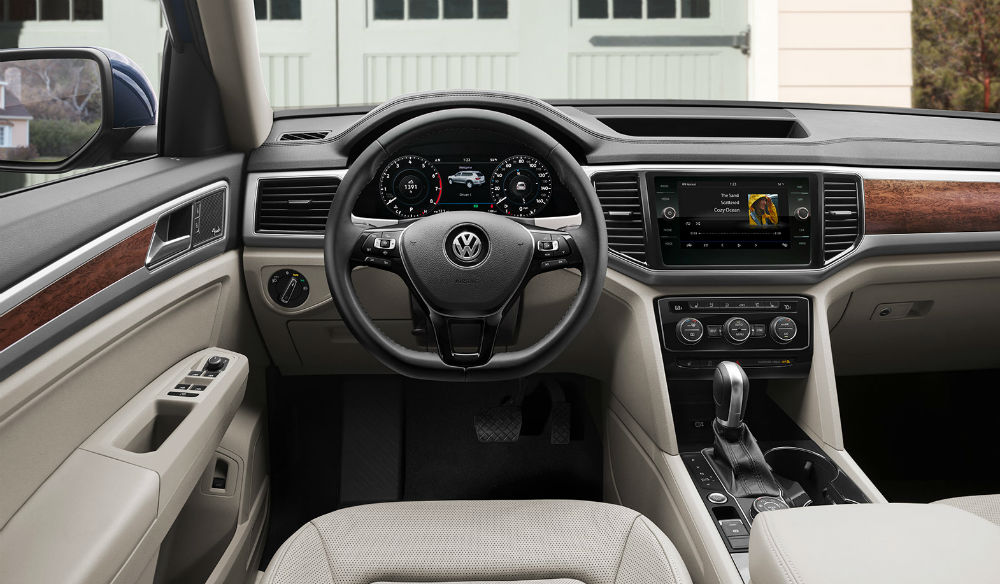 Some of the features include:
41.3 inch front headroom
37.6 inch rear legroom
97 cubic feet interior maximum cargo volume
153.7 cubic feet passenger volume
41.5 inch front legroom
40.4 inch rear legroom
What Are The Trims Available In The 2019 Atlas?
Why Buy From Pugi Volkswagen?
If you had come to our dealership at Pugi Volkswagen near Downers Grove, IL, before asking this question, your experience would have been very different. But it is never too late to do a good thing. Our business has been standing since the last 25 years. 25 years is a whole lot of time and it has taught us how to be the best for our customers.
Every day, we welcome new customers with open arms and when they walk away happily from our dealership, that smile, that sense of satisfaction and that feeling of content is what we strive for. We are always looking forward to new and innovative ways in which we could benefit our customers.
So don't hold back in making the best decision of your life. After all, when you are about to do something good, you should not let it wait and simply visit Pugi Volkswagen!